by Lillian Csernica on April 29, 2022
I don't understand the fascination some men have for sport fishing. I get the whole Man vs. Nature thing, but what I don't understand is why some men are willing to sit out there in a lawn chair, in a rowboat, in one of those special chairs on a special boat meant just for fishing, or on a splintered bench covered in sea gull poop out on the wharf. What is so enthralling about sitting there for hours watching the water, waiting for your bobber to go under or your line to jerk? It can't be the suspense, because I've done this myself and aside from fishing aboard a boat, I was bored out of my mind. Of course, I was thirteen at the time. If my father hadn't allowed me to bring books along, I probably would have refused to go altogether.
By that time my parents were divorced, so on one visitation weekend my father announced that we were going on a fishing trip. Given that we were city people, I assumed that meant standing on the end of the local pier again. Daddy and some people from where he worked had gotten together and rented a boat that would take all of us to the Four Mile Banks off Laguna Beach down in Southern California. I was always up for going somewhere I hadn't been before, so this fishing trip started to look like more of an adventure. Daddy said we had to pack our gear the night before and get the car ready, because we'd be up before daylight to catch the boat called the Dos Equis and motor out to our fishing spot.
My father worked for a defense contractor, so the people in the group on the boat were also of military or scientific backgrounds. One man I talked to was a chemical engineer. I didn't really know what that meant, and the problem was I couldn't ask him because what he did was classified. Little did I know that ten years later I'd be married to a software engineer who would tell me the same thing. Due to his security classification, I never have known exactly what my husband does for a living!
When Daddy enjoyed doing something, he tended to do it over and over again. That's I got to see Evita twice. I think we went out on the Dos Equis a total of three times. I remember the captain as being a very nice man, silver-haired and tanned really dark from being out in the sun all the time. He liked having me on board. He thought I was good luck. Every time we went out, I caught the first fish, and it was usually a good one. On our first trip, I caught a shark about as long as my forearm. The shark had green eyes! Beautiful peridot green. The captain asked me if I wanted to keep it as part of our catch. I didn't want such a beautiful creature to die, so I asked him to throw it back. Soon after found a school of mackerel. Every time I cast my line I got a hit. That made me wonder about magic creatures, granting wishes, and good luck.
The one drawback to my good fortune was the fact that my father's co-workers weren't entirely happy to have me aboard. I suppose having a kid around put a bit of a damper on their fun. I can't recall how I found out about the real problem. Other people in the fishing group were making side bets on who would catch the most fish, what kind, in what time period, etc. Having me on board skewed the odds. The people doing the betting thought my good luck somehow extended itself to my father. On our second trip aboard the Dos Equis he caught a sheep's head. That is one ugly fish, as big as I am from shoulder to hip. It had four teeth as broad and thick as human molars!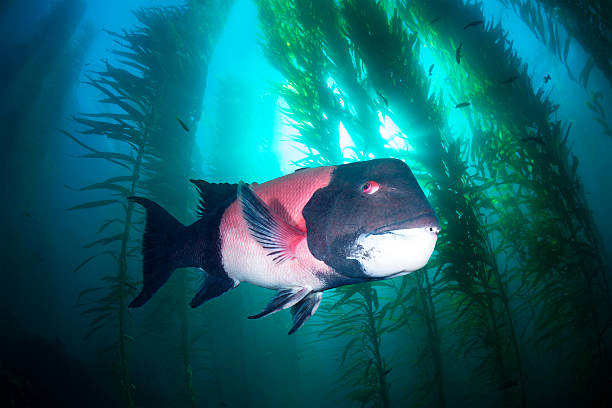 Somebody must have said something to Daddy about me. Whatever it was, he didn't let it interfere with the good time we were having. For once I was enjoying going fishing. That must have seemed like a minor miracle to him. Our adventures hadn't made a total convert out of me. I still thought fish were slimy and gross. Cleaning them was something I just could not do. I didn't really like eating them, either. These days I enjoy swordfish, salmon, halibut, and most seafood. I do have one firm rule: if it has tentacles, keep it away from me! Another sign of my good luck: Daddy wasn't big on squid or octopus either.
On our third fishing trip things got a little too adventurous for me. We were out off the Banks, fishing for rock cod. We had to use long lines with three or four hooks, big chunks of bait, and heavy sinkers. As we'd reel up the lines to check our catch, sharks would come around and try to eat the cod right off our lines. The first time I saw a shark break the surface of the water I just about had a panic attack. This was back in the days when Jaws was still very much in the minds of people who had seen the movie and/or read the book. I went up on the flying bridge to get away from the rail. That turned out to be a mistake. Up that high, I could see both of the thrasher sharks circling our boat.
I wish I had been observant enough to see the pattern in my father's liking for being out on the water. He spent twenty years in the Navy. He really liked the tide pools down at Dana Point. He loved to go fishing, and he could stand there on the pier staring out at the water for what seemed like forever. I wish I had asked Daddy why he chose the Navy, but that was an easy one. Grandpa and my Uncle Dean had both gone into the Navy Even so, Daddy had a lifelong attachment to the sea. I wonder if such a thing can be passed on from one generation to the next. Whenever I'd get upset as a teenager, or even now when I have my bad days, one of the best cures is to go to the beach and just watch the waves rolling in. There's something about the sea breeze that blows right through me, carrying away all the negative stuff that's built up inside. I wonder if that's how Daddy felt. I wonder if his reasons were the kind of reasons that you just can't explain. You just sit there, stay quiet, and listen to what comes and goes inside your head.
I wish my father had lived long enough to take my son John fishing, to teach him all about lures and bait and why sand dabs have both eyes on one side. Maybe this summer I'll take John down to the wharf, rent some fishing gear, and see if I can remember all the things Daddy taught me about baiting hooks and knowing when to pull hard on the rod and when to play out more line. I still have photos of those fishing trips with Daddy. Maybe it's time I got them out and gave them a place of honor.